Four Hidden Gems Every TYPO3 Editor Should Know
We were reminded of this when working on feature descriptions during the December 2018 TYPO3 Marketing Sprint in Venlo, The Netherlands. These hidden treasures can improve your workflow and bring your enjoyment of TYPO3 editing to new heights.
Unlimited Undos and Change History
The possibility to revert changes is one of the most useful features of TYPO3. (Just ask our Support Team.) With the click of a button, you can roll back anything from a change to a single field in one content element to days of site-wide changes.
Even if you have used TYPO3's undo function, you probably did not know that TYPO3 stores information about every edit made and what data was changed. This information can be stored indefinitely, giving a detailed history of your installation—and unlimited undos.
If you deleted the wrong page, it does not have to be lost. Administrators can even filter the history by user, so months of damage by a rogue editor can instantly be rolled back.
Multiple Copy, Paste and Edit
If you spend most of your day in the Page module, here is a thing that could make you a lover of the List module: The possibility to copy or move multiple elements at once and use up to three extra clipboards.
If you scroll to the bottom of a page in the List module, you will see a checkbox labeled "Show clipboard". Tick the box, and a list of clipboards will appear below it. If you select one of the three multi-select clipboards, checkboxes will appear next to records listed. Check a few boxes and click the icons above to batch edit, delete, or transfer the records to the selected clipboard.
The multi-functions of TYPO3 go even further. Check out this TYPO3 Documentation article to see how you can make batch edits on single fields in multiple content elements.
You can also use multi-select clipboards to move and copy multiple files in the Filelist module.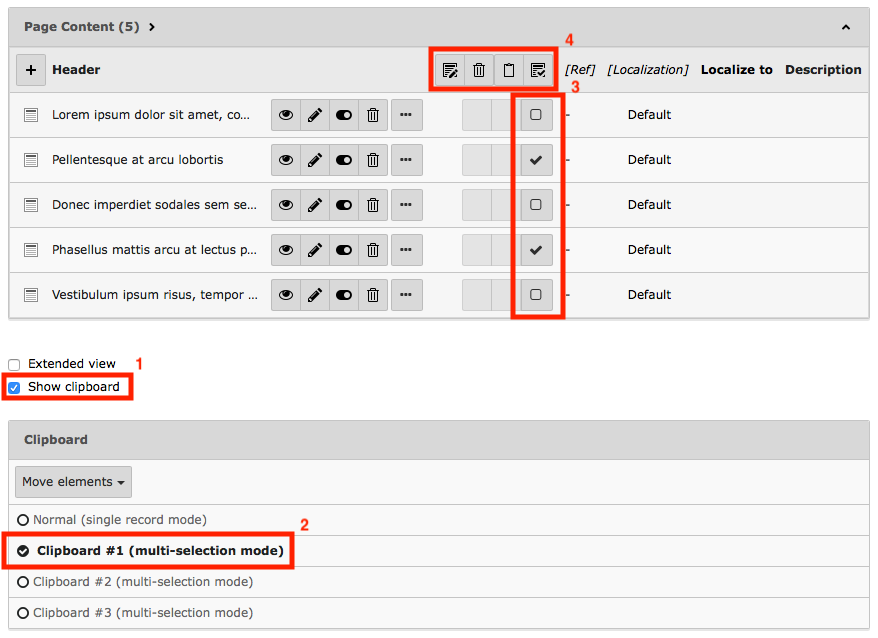 Editor Certification is Quality Assurance
Editors are a central part of your website's quality assurance. Knowing that you are using the CMS in the best way is important. If you are using TYPO3 regularly, you should consider completing the online TYPO3 CMS Certified Editor exam.
Passing the exam will demonstrate that you know TYPO3 and use best-practice approaches to manage content on your site. Failing the exam is also a good thing: It will show you the areas where you need to improve, avoiding holes in your knowledge that might hurt you and your site further down the road.
You can prepare for the certification on your own, but it is more fun to do it as a team. Contact us, and we will help prepare you and your coworkers for the exam.
Work Faster With Fine-Grained User Rights
Detailed control over who sees what is great for more than security. Hiding fields you do not use and pages you don't need will make it quicker to reach the things you use every day. The forms will load faster.
We recommend that you sit down with a site administrator or contact us to find out what fields you really need, and hide the others. To start you off, here are three fields you may not need:
Usergroup Access Rights. You will not need this field unless your site allows frontend users to log in. Even if it does, you may need this field only on pages, and not content elements.

Categories. Both content elements and pages have this field. Some sites use it to populate menus and enhance search and navigation—but does your site?

Append with Link to Top of Page. This content element-related checkbox deserves more love that it is getting ("Go to top of page" links are especially useful on long pages). However, if you are not in the habit of using this feature, we recommend putting a "Go to top" link into the footer of the web page instead.
Contact us to learn more or book a course for you and your coworkers.